Portugal - (2018) - Netflix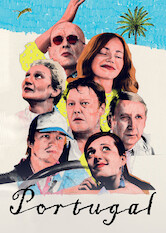 Como desbloquear todos os filmes e programas de TV na Netflix
1h46m -
Dramas
When a happy marriage starts to feel predictable, a husband and wife embark on journeys of self-discovery to figure out what's missing in their lives.
Diretor:

Lauri Lagle

Elenco:

Mirtel Pohla

,

Margus Prangel

,

Jarmo Reha

,

Anne Türnpu

,

Taavi Eelmaa

,

Elmo Nüganen

,

Meelis Rämmeld

,

Eva Koldits

,

Gert Raudsep

,

Helena Merzin

Classificação Netflix:

5.0/5
Avaliação Rotten Tomatoes:
NA
Países disponíveis em:

Não está disponível onde você mora? Aprenda a desbloquear o Netflix e assista a este título.

Disponível desde:
2022-06-24
Trailer:
Títulos semelhantes:

Synopsis
This adventurous and soulful story with comedic beats is a feature film debut by acclaimed actor and stage director Lauri Lagle. Karina and Martin are in a pleasant relation where everyday life flows in an effortlessly accustomed way and no small misbehavior can shake it's rush. Life is good. Perhaps it's this perfection and frequent patterns that make them finally pose a question - is everything to be expected in life? This is a story about following the yearning of your soul. Longing for something other than the present and having the courage to be deliberately lost. The characters in the film are looking for a place of love and understanding in the world. Their journey is playful mellow and thoroughly human. It is full of mistakes but also possibilities for new beginnings and colorful personalities who all share a common goal - to find happiness. Because there is only one way home and that is to continue traveling. "Portugal" is profound and smooth like a summer's night. It is a physical progression and a mental journey towards something other than a mere geographical location on a map.
Outros filmes sendo assistidos agora