Wrong Turn - (2021) - Netflix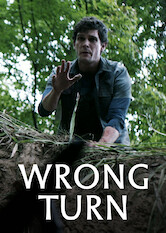 Como desbloquear todos os filmes e programas de TV na Netflix
1h49m -
Horror
A group of city dwellers venture off the Appalachian trail in search of a civil war fort. Deep in the woods, they find a cult with a horrifying vision.
Diretor:

Mike P. Nelson

Elenco:

Charlotte Vega

,

Adain Bradley

,

Matthew Modine

,

Bill Sage

,

Emma Dumont

,

Dylan McTee

,

Daisy Head

,

Tim DeZarn

Classificação Netflix:

6.1/5
Avaliação Rotten Tomatoes:
0/100
Países disponíveis em:

Não está disponível onde você mora? Aprenda a desbloquear o Netflix e assista a este título.

Disponível desde:
2021-09-03
Títulos semelhantes:

Synopsis
Chris Flynn is driving his car for a job interview in another city. However an accident with a trunk transporting chemical products blocks the highway and Chris looks for an alternative route through the mountains of West Virginia to accomplish his schedule. Due to a lack of attention he crashes another car parked in the middle of the road with flat tires. Chris meets a group of five friends who intended to camp in the forest and they decide to leave the couple Francine and Evan on the place while Chris Jessie Carly and her fiancé Scott tries to find some help. They find a weird cabin in the middle of nowhere where three violent cannibalistic mountain men with the appearance of monsters live. The two couples try to escape from the mountain men while chased by them.
Outros filmes sendo assistidos agora