The Royal Treatment - (2022) - Netflix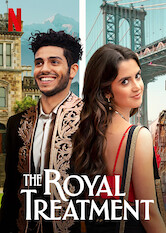 Como desbloquear todos os filmes e programas de TV na Netflix
1h37m -
Comedies
New York hairdresser Izzy seizes the chance to work at the wedding of a charming prince, but when sparks between them fly, will love — or duty — prevail?
Diretor:

Rick Jacobson

Elenco:

Laura Marano

,

Mena Massoud

,

Chelsie Preston Crayford

,

Grace Bentley-Tsibuah

,

Cameron Rhodes

,

Sonia Gray

,

Elizabeth Hawthorne

,

Amanda Billing

,

James Gaylyn

,

Paul Norell

,

Teuila Blakely

,

Jacque Drew

,

Phoenix Connolly

,

Matthew E. Morgan

,

Jay Simon

Classificação Netflix:

0.0/5
Avaliação Rotten Tomatoes:
NA
Países disponíveis em:

Não está disponível onde você mora? Aprenda a desbloquear o Netflix e assista a este título.

Disponível desde:
2022-01-21
Trailer:
Títulos semelhantes:

Synopsis
Isabella runs her own salon and isn't afraid to speak her mind while Prince Thomas runs his own country and is about to marry for duty rather than love. When Izzy and her fellow stylists get the opportunity of a lifetime to do the hair for the royal wedding she and Prince Thomas learn that taking control of their own destiny requires following their hearts.
Outros filmes sendo assistidos agora