Predators - (2010) - Netflix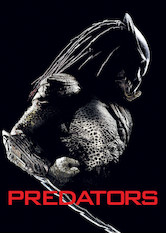 Como desbloquear todos os filmes e programas de TV na Netflix
1h46m -
Horror
Rugged mercenary Royce inherits command of an elite team of human fighters who are hunted by a race of ruthless alien trackers known as Predators.
Diretor:

Nimrod Antal

Elenco:

Walton Goggins

,

Oleg Taktarov

,

Brian Steele

,

Danny Trejo

,

Mahershala Ali

,

Laurence Fishburne

,

Alice Braga

,

Adrien Brody

,

Topher Grace

,

Louis Ozawa Changchien

,

Carey Jones

,

Derek Mears

Classificação Netflix:

6.4/5
Avaliação Rotten Tomatoes:
0/100
Países disponíveis em:

Não está disponível onde você mora? Aprenda a desbloquear o Netflix e assista a este título.

Disponível desde:
2019-07-20
Trailer:
Títulos semelhantes:

Synopsis
The mercenary Royce; the military Isabelle; the Russian soldier Nikolai; the San Quentin criminal Stans; the Sierra Leone militia Mombasa; the drug lord Cuchillo; the Yakuza Hanzo; and the Doctor Edwin awake in free fall but they succeed to open their parachutes landing in a jungle. Soon they find that they are on another planet and they are prey of aliens in a deadly hunting game, and they need to join forces to destroy their predators and survive.
Outros filmes sendo assistidos agora