How to Be a Player - (1997) - Netflix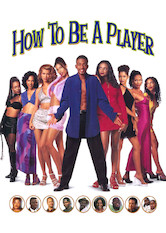 Como desbloquear todos os filmes e programas de TV na Netflix
1h33m -
Comedies
Dray lives life one woman at a time and is the envy of all his friends, until his sister decides to show him the error of his philandering ways.
Diretor:

Lionel C. Martin

Elenco:

Beverly Johnson

,

Max Julien

,

Bernie Mac

,

Jermaine 'Huggy' Hopkins

,

Gilbert Gottfried

,

Mari Morrow

,

Lark Voorhies

,

Bill Bellamy

,

Anthony Johnson

,

Pierre Edwards

,

Natalie Desselle

,

Natalie Desselle Reid

Classificação Netflix:

5.3/5
Avaliação Rotten Tomatoes:
0/100
Países disponíveis em:

Não está disponível onde você mora? Aprenda a desbloquear o Netflix e assista a este título.

Disponível desde:
2019-11-01
Trailer:
Títulos semelhantes:

Synopsis
Dray is a young playboy whose only objective in life seems to be to have sex with as many girls as he can without getting caught by his girlfriend Lisa. Dray's sister Jenny and her friend Katrina plan to show him that the way he lives is wrong and organize a party in Malibu, inviting all of his girlfriends.
Outros filmes sendo assistidos agora